Solidarity with Black Lives Matter Movement
The University of Utah Prison Education Project adamantly condemns the anti-Black violence that has added the names of George Floyd, Breonna Taylor, and Ahmed Arbery to the list of Black individuals who have been murdered by law enforcement and white supremacists. We stand in solidarity, love, and care for local and national Black communities, and join people from around the world in shared grief and rage. Read more...
Mission
---
Through a commitment to social transformation, UPEP advances educational equity through on-site higher education, empirical research, and advocacy.
Ways to Give
At this time, UPEP is a non-credit program. We are actively fundraising to cover costs associated with enrollment. All costs associated with attendance are covered by the Project. Incarcerated students are not asked to financially pay for participation in UPEP.
The holiday season can be especially difficult for incarcerated persons, separated from their homes, loved ones, and broader communities. We are eager to
bring a little cheer
and
express our gratitude
to our students for their efforts and sustained commitment to UPEP.
This year we are
raising funds to help offset the costs
of a meal we will be bringing inside the prison to mark the end of the fall semester as well as
holiday care packages
with items purchased from the commissary we hope to provide to every UPEP student.
A $15 dollar donation will cover the cost of one meal and $25 will cover a holiday care package for one student.
Any amount, of course, is greatly appreciated. Any funds collected beyond what we can utilize for this event will be invested in school supplies for students next semester.
Thank you for keeping incarcerated folks and their loved ones on your mind this holiday season.
Donate to the Community Care Fund by clicking the button below:
Research
Beyond Pell Restoration: Addressing Persistent Funding Challenges in Prison Higher Education Toward Racial and Economic Justice
Wednesday March 30, 2022
Beyond Pell Restoration
---
Leveraging the Power of Pell in Prison: Equity Challenges in Scaling the Second Chance Pell Experimental Sites Initiative
Tuesday February 23, 2021
Power of Pell_ Article 2021 final
---
The Landscape of Postsecondary Education in U.S. Prisons, 2019
Wednesday November 20, 2019
Title: The Landscape of Postsecondary Education in U.S. Prisons, 2019. Description: The landscape of postsecondary education in U.S. Prisons, 2019. Research Brief. Salt Lake City, UT: Research Collaborative on Higher Education in Prison, University of Utah. Castro, E. L., Padilla, E. A., & Royer, C. E. (2019, Nov.)
---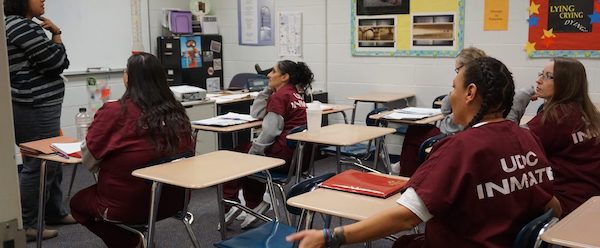 The research collaborative on higher education in prison
Friday September 20, 2019
The Research Collaborative on Higher Education in Prison is part of the University of Utah Prison Education Project, a multi pronged approach to expand the field of quality higher education in prison. We work in collaboration with programs across the country to transform the landscape of higher education in prison through empirical research and collaboration […]